Contact Murray Chiropractic!
Call Us! (908) 813-3120
Covid-19 Update
We are open!
As you know we started with a soft reopening with only morning appointments. We have started afternoon office hours.
Appointment times are Monday, Wednesday and Friday 8:30 am until Noon and 3:00 pm until 5:00 pm. We plan to further expand office appointment times as the pandemic further declines. Please be safe we look forward to serving you !

CONTACT
Murray Chiropractic
108 High St
Hackettstown, NJ 07840
T: (908) 813-3120
F: (908) 684-0228
Office Hours
M
8:00 – 12:00
3:00 – 6:00
W
8:00 – 12:00
3:00 – 6:00
F
8:00 – 12:00
3:00 – 5:00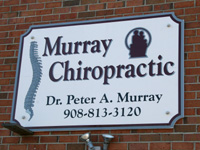 FIND US